MHTV Top Story:
"Caine Monroy built it and the people did come.
The 9-year-old boy from Los Angeles spent an entire summer building an elaborate arcade inside his father's used auto parts shop.
A 10-minute video (above)  about his creation has been viewed more than two million times and has generated more than $100,000 for a scholarship fund.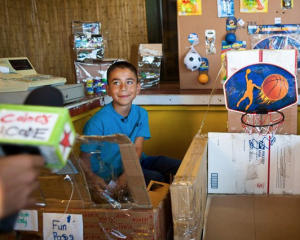 Using old cardboard boxes and packing tape, Caine constructed elaborate games, according to the film. He priced tickets — $1 for four plays or $2 for a "fun pass" and 500 plays.
He pinned prizes to the wall. He even developed a high-tech security system for validating the arcade fun passes.
Caine, wearing a blue staff t-shirt he made himself, waited for customers.
But didn't get any. His dad's shop in east L.A. does most of its business online and gets very little foot traffic.

Enter Nirvin Mullick, who needed a door handle for his 1996 Toyota Corolla. He explains in the film how he bought a fun pass (it was the better deal) and played some games.
It turns out that one customer was all Caine needed.
Mr. Mullick is a filmmaker and decided to make a video about Caine's Arcade.
"I said (to Mr. Mullick), it's actually kind of a little joke around here because you're his only customer," says George Monroy, Caine's dad, in the film. "If you can get him one customer, that would make him happy."
"At that point we hatched a plan to get everybody in L.A. to come play Caine's Arcade," Mr. Mullick says.
Mr. Mullick got on Facebook and organized a flashmob to come to the shop on a Sunday afternoon. The event information went viral and ended up on Reddit, which Mr. Mullick calls "the front page of the Internet."
Caine's dad agreed to take his son out for pizza to give the flashmob time to gather and construct colourful signs.
With a honest grin showing uneven teeth, Caine was clearly thrilled to see a massive crowd had gathered and were chanting "we came to play!"
"I saw they were cheering for me," Caine says at the end of the video. "And I was proud."
Mr. Mullick's film has now been viewed nearly one million times on YouTube and 1.5 million times on Vimeo.
A fund set up to send Caine to university — where many have wondered if the boy will study engineering — quickly raised thousands of dollars.
An early push for fundraising for Caine came from Justin McElroy, a video game journalist and managing editor of the Polygon, a video game website that will go live later this year." – Allison Cross
The MHMS Daring School Library Loves Caine's Arcade!
What does this have to do with the MHMS Daring School Library? Well, this is the kind of spirit of  ingenuity, persistance, optimism, & creativity we foster here at Murray Hill! I'd like to think our kids could learn a thing or two from Caine. We showed this video to all of our 727 kids this during our daily live MHTV show & the our kids were really touched & inspired by it – and Mrs. Singleton & I were fighting over the Kleenex box! Great job, Caine! AWEsome job filmmaker Mr. Nirvin Mullick! You saw something special in this kid and helped realize a dream come true!   Viva creativity and the power of social media!
Caine's dad Tweeted this morning:
smartparts1 caine is shopping for caps for @cainesarcade http://twitgoo.com/5osb29
---
Credits:  Story Source: Caine's Arcade video about inventive L.A. boy raises $100,000 for scholarship fund Allison Cross
Photo Source: Caine's Arcade Official Website – Used with Permission
Twitter Sources: Filmmaker Nirvin Mullick  @nirvan
Caine's Arcade: @cainesarcade
Caine's Dad Mr. Monroy: smartparts1