Hot off the Presses!
Get your Summer Reading List!
by scanning the QR Code below
or Click HERE!  You can also visit our Wikispaces Page!
WARNING: This post contains an abundance of exclamations marks. No characters were hurt writing this post, however, the ! key is giving me the side eye!
Be a Super Hero (cape optional) and Join the Summer Reading Program at your friendly neighborhood Howard County Library, Savage Branch!

"You may read books, magazines, graphic novels, newspapers, and web sites. You may also listen to audio books. For ideas and suggestions, check out the links below for a list of books for Middle School and High School students developed by Howard County Library System teen specialists in conjunction with the Howard County Public School System.
To get started, register at the research desk at any Howard County Library System branch. We'll give you all of the materials you need to get started: a reading log, instructions, and even your first raffle ticket just for signing up.  You may then earn raffle tickets for reading and completing other fun, library related activities"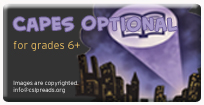 Grades 6+ REGISTER Online!
You can also pick up a Summer Reading List flier in the MHMS front office!

As always, if you would like to request a book for purchase
for the MHMS Media Center for next year, fill out this Google form!
Field Day 2015!

8th Grade Slideshow Movie!

8th Grade Slide Show Pictures!