"Did you know? Reading just 20 minutes a day exposes your child to about 1.8 million words per year. Reading helps students develop a stronger vocabulary, and in addition, students who read for pleasure average higher grades in English, mathematics, science, and history!" Scholastic Promo Material
Of course checking out books from our Library supports this in every way! But having a personal Library at home is also a wonderful thing! It brings to mind, snow days, holidays, & curling up with a good book! (See my personal reminiscence below)
Mark your calendar to join us for a celebration of reading and raising funds to help our school!  The PTA Book Fair hours are as follows:
Friday, 11/16: 11:00 am – 1:30 pm (lunch)
Monday & Tuesday, 11/19-11/20:   9:30am-11:30am (lunch) and 1pm-8pm (conferences)
Check out our Book Fair Videos!
—————–
Mr. C & his daughter Miss S.


All Book Fair parent volunteers will receive a free Murray Hill Middle School long sleeve t-shirt!  Many volunteer time slots are open during conference times.  Please consider signing up below for slots before, between, and/or after your parent teacher conferences.   

Follow this link to sign up!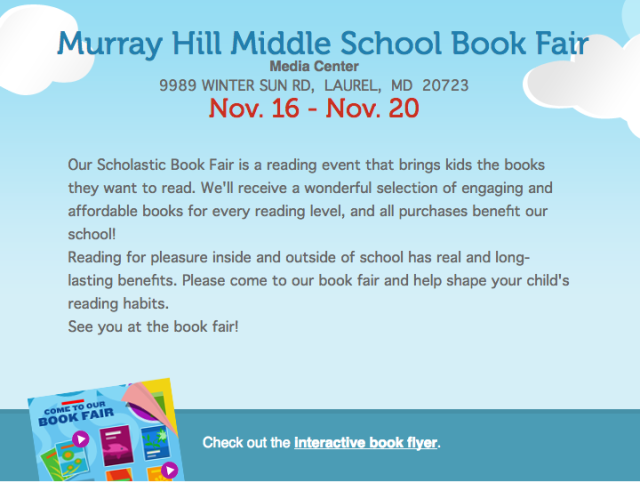 View & Download the MHMS PTA Bookfair PDF Flier!
---

During the blizzard of 1979 we were stuck home for a week and I ran out of books. (Gasp!) The picture above shows me
curled up sitting on the heating vent in the living room (note the ORANGE shag carpet!) with Grandma's afghan reading The Laird of Tariff Hall, a well-worn and taped-together Gothic paperback.
After that, I guess I was whining about nothing to read so my Mom gave me her Gone With the Wind paperback – that shut me up! I don't know if it was totally appropriate for a 14 year old to read that – but it kept me quiet for many many days!
I also had a collection of Nancy Drew books, boy I loved those! Being a daughter of an English Teacher and Reading Specialist meant that at a very early age, I had books around the house and my own little library in my room. The Scholastic Book Fair coming to our school an help some of our kids build their own personal libraries!